Denver Broncos Season 2013 Review
Read how the Denver Broncos did in the NFL season 2013. If you are looking for more recent games, click here to find reviews of Denver Broncos games in 2014.
Denver Broncos with high hopes for 2013
After a disappointing run in 2012, the Denver Broncos started their 2013 campaign as the hot favorites to lift the Super Bowl XLVIII trophy. This was their 44th season in the NFL and the 30th under the ownership of Pat Bowlen, the 2nd for their starting quarter back Peyton Manning and the 3rd under head coach John Fox.
Not all went according to plan as the beginning of the season was marred by injuries and the suspension of all-pro linebacker Von Miller. However, the Broncos still managed to pull a few upsets during the season. Here are some of their memorable matches during the 2013 NFL season:
This highly charged game was the first ever play off match between the two teams. The Broncos would carry the day, beating the Chargers 24-17 thanks to a spectacular display by Peyton Manning. The moment of reckoning came when Manning caught tight-end Julius Thomas for an amazing 21- yard completion. After 7 plays and 2 more third down conversions, the Denver Broncos were well on course to the AFC Finals. The Chargers hopes of beating the Broncos were dashed when Moreno picked 5 yards on third and 1 in the dying moments of the game.
The radiant afternoon when the Denver Broncos beat the Patriots 26- 16 will be etched in their fans memory's for long. This day the team played their hearts out to lift the seventh AFC Title in the franchise history in a remarkable fashion. Again it was Manning who turned in a stunning performance barely two weeks after being named the Most Valuable Player in the NFL for a record 5th time. The game was basically over when Montee Ball picked 5 yards on the 4th and 2 on last drive of the game.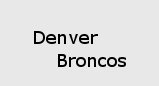 Not all was rosy for Denver Broncos in 2013. They lost 43-8 in the hands of Seahawks after a lot of miscommunications from players. Although the Broncos defense managed to keep the Seahawks at bay in the 1st quarter, the pressure became too much in the 2nd quarter. After Peter Harvin's 87-yard kick-off return for a touch-down, it was evident the Broncos were headed for a major defeat. This was a match the player and the fans would certainly love to forget.
The Denver Broncos didn't have a disappointing season in 2013 compared to what happened on 2012. Pundits argue that if the team wasn't marred by injuries at the beginning of the season, things would have been different. We can only wait with baited breath and see what they can accomplish in the 2014 NFL season and I'm sure you will follow the games using a Denver Broncos live stream.