American Football Conference
The American Football Conference (AFC) has a total of 16 teams divided into four divisions: AFC East, AFC North, AFC South and AFC West. In contrast to the conferences, the divisions are mainly determined by the geographical location of the teams. Due to new teams and team relocations, there are some exceptions to this rule.
Divisions within the American Football Conference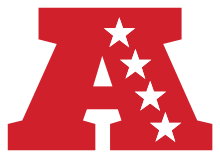 The four teams of the AFC East are the Buffalo Bills, the Miami Dolphins, the New England Patriots and the New York Jets. The division was founded in 1960 as one of the two divisions forming the American Football League. The Buffalo Bills, the Boston Patriots, the New York Titans and the Houston Oilers were the founding members of the division. In 1966, the AFL issued a license to establish a new franchise. Business man Joe Robbie and actor Danny Thomas, who had acquired the license, decided to choose Miami as the location for their franchise. This way, the Miami Dolphins became the fifth member of the division in 1966. In 1970 the next and so far biggest change in the history of the division followed: In this year, the AFL and NFL merged leading to more teams in the league and a need to reorganize the two conferences. Therefore, after renaming the AFL Eastern division to AFC East, the Houston Oilers were reassigned to the AFC Central and replaced by the Baltimore Colts. The Colts were part of the AFC East until the end of the 2001 season. After that, they had to give way to a new expansion team from Houston and had to change to the AFC South so that each division of the American Football Conference had the same number of teams again.
The AFC North currently has the following members: The Baltimore Ravens, the Cincinnati Bengals, the Cleveland Browns and the Pittsburgh Steelers. In contrast to the other division of the AFC, there is no team of the original American Football League in the AFC North. However, the AFC North emerged from the NFL Century Division which was founded in 1967.
The AFC South was newly formed with the restructuring of the NFL in 2002. Just like all other divisions, the AFC South consists of four teams: The Indianapolis Colts, the Houston Texans, the Tennessee Titans and the Jacksonville Jaguars.
The AFC West emerged from AFL's Western division which was formed in 1960 and remained almost intact during the merge of the AFL and old NFL in 1970. The four teams playing in the division are the Denver Broncos, the Los Angeles Chargers, the Kansas City Chiefs and the Oakland Raiders.
Teams of the American Football Conference
AFC East
Buffalo Bills
Miami Dolphins
New England Patriots
New York Jets
AFC North
Baltimore Ravens
Cincinnati Bengals
Cleveland Browns
Pittsburgh Steelers
AFC South
Indianapolis Colts
Houston Texans
Tennessee Titans
Jacksonville Jaguars
AFC West
Denver Broncos
Los Angeles Chargers
Kansas City Chiefs
Oakland Raiders